Born in the United Kingdom, Jackie Warmelink has lived in the Mulmur hills for over 30 years. Originally trained as a Home Economist and Cordon Bleu Chef, Jackie started collecting pottery while working in South Africa in the late 1970's. She was drawn to the organic colours and shapes and loved how they showcased her food creations.
She took her first pottery lessons in Africa, working with clays from the Masai Mara plains.
When she settled in Canada in the early 1980's Jackie continued studying pottery with several local potters as she found working with clay a relaxing escape from the stress of her job as a Food Stylist for advertising commercials in Toronto.
While living in Belleville in the early 2000's she studied at Loyalist College Pottery Studio. It was there that she developed her current Stoneware designs which are the product of her years of experience.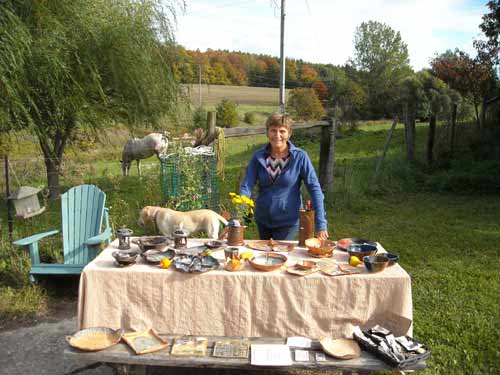 She was also introduced to Raku pottery which has become a passion because of the unpredictability and uniqueness of the results.
Jackie has completed several courses in Raku at Haliburton college of Arts and also a course in glaze technology and continues to build on her knowledge and technique to create new and interesting designs and colours.
She also completed a woodfiring workshop and hopes to develop more skills with woodfiring in the future.
Jackie currently works in both Stoneware and Raku in her studio on the family farm in Mulmur.
In Stoneware she works mainly with slabs, sometimes combining them with thrown work to create hand built pieces which are both unique and functional.
She uses organic shapes and often incorporates textures into the surface of the clay using laces and netting. Mixing her own glazes she uses 2 or more glazes on each piece to create unusual colour combinations which "break" on the folds and texture making each piece unique.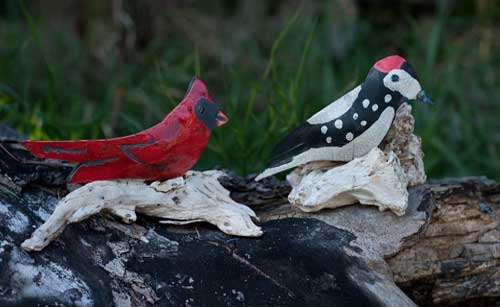 She makes a variety of serving dishes including her signature "folded" bowls, divided platters and popular berry bowls. Other designs include wine holders, chip and dip dishes and soap dishes. Recently she has developed a series of leaf shapes platters made by imprinting large tropical leaves into the clay.
Jackie's Raku work is constantly evolving and is truely "one of a kind". Her pieces are all hand built and she draws her inspiration from the nature surrounding her studio imprinting her platters with leaves and making a variety of birds, fish, and trees either as wall hangings or displayed in driftwood. Other Raku work includes vases imprinted with shells and candleholders and of course her popular Christmas decorations. From small chickadees on holly and cardinals to hang in your tree to Snowmen and Christmas trees in wood she has a range of unusual decorations to suit every taste and budget.